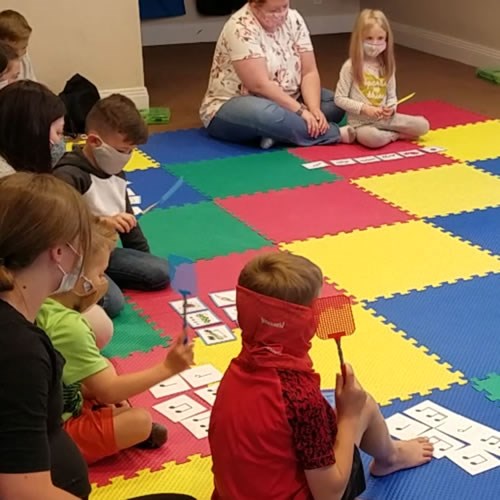 Testimonials
Bethany has created a beautiful music studio in her home where my daughter loves to go and enjoy her music class. With plenty of different activities and instruments, Bethany engages the children and creates a super fun learning environment. I love how organized everything is and how quickly my daughter warmed up to her classroom and that she quickly fell in love with learning about music with Ms. Bethany. Even though we started classes before my daughter was two years old, it was the best decision! We highly recommend sound beginning classes with Ms. Bethany!!! - Christine R.

"This is our daughter's first year of Let's Play Music and she has absolutely loved it. She gets so excited to go each week. She has learned so much and the program has definitely exceeded my expectations. Miss Bethany has created a safe, clean studio that is fun and inviting for everyone. She is a wonderful teacher and we've had a great experience this year!" - Tiauna J.

"I have a daughter in Let's Play Music and a son in Sound Beginnings. They both LOVE music class with Ms Bethany! They are always excited to go and it is SO FUN seeing them sing the songs, do the actions and practice their instruments at home!! I took piano lessons for over 15 years and taught piano for over 5 years. I love the way this program gives an amazing foundation and base to learning rhythms, staff, note relativity, and the kids get to be active and social while doing it!" - Janalee B.

"Bethany is great with the kids, and my daughter has loved the two classes we have taken so far." - Cathy L.

"Let's Play Music is a fantastic program to expose your children to music elements they can build on for the rest of their lives. My son loves to sing, and we sing the LPM songs often during the day! Miss Bethany does a great job of teaching the LPM concepts! We are excited to see our son build on these skills throughout his life!" - Caci J.

"Bethany is so great with the kids! My five year old loves going to her music school. She especially loves that I get to come with her every other week. We have a great time learning and playing together. I highly recommend this studio!" - Emily N.

"Great music teacher and a great program. No need to nag them about practicing. My kids ask me if we can do piano. We are learning and creating memories together." - Annette T.

"Ms. Bethany has so many great ideas and ways she shares her love of music with the kids. We recently started music with her and have been very impressed with her organization and ability to engage the kids." - Beth R.

It has been so amazing watching my children learn so much! Their skills are improving so fast and I am excited to see how proficient they are becoming!! - Tori C.

Bethany has a great knowledge and love for music. My son enjoys lessons because she is fun, energetic and patient! I have experienced LPM with three different teachers and Bethany is my favorite because she is organized, kind and easy to work with. - Sarah B.

Would you like to come to a free p
review class

to see what all the excitement is about? I'd love to meet you and your child!