Sand and Sea click here for Great Outdoors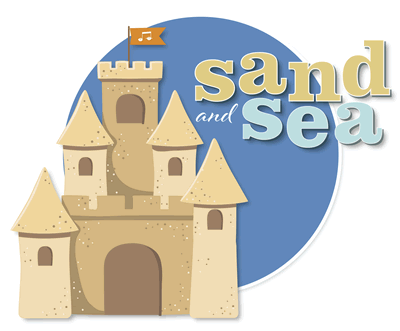 What is this class about?
Sand and Sea is a fun ocean-themed session based on the Sound Beginnings curriculum model. Designed for children 0 to 5 and a caregiver, this 8-class session will include all the traditional elements of a Sound Beginnings class, such as movement, instrument play, musical games, singable stories, classical music exploration, nursery rhymes, and more!
What skills and themes are in this class?
letters & sounds
oceans & sea animals
counting & feelings
solfege & in-tune singing
playing instruments & experiencing classical music
distinguishing high/low, loud/soft, fast/slow
How is this class set up?
This class will be taught as a 2 week mini camp, Monday through Thursday, making 8 classes total. Classes will fill up fast, so be sure to register as soon as possible!
When is this class taught?
This summer I will be teaching 2 sessions of Sand and Sea Monday-Thursday, June 6th-June 16th at either 11am or 1:30pm. The Great Outdoors class will be Tuesday-Friday, July 5th-15th at either 11am or 1:30pm. You are welcome to sign up for both classes, as they will have different songs and activities!
Cost of Program
The cost of the Sand and Sea summer program consists of student material fees and class tuition. The student material fee is paid online directly to Let's Play Music at time of enrollment. A $5 registration fee will be required upon registering. Tuition is payable to me, Bethany Harris, your Sound Beginnings teacher. The cost for the 8-class session will be $90 for one student or $110 for two or more children (family rate). Tuition includes 8 classes, parent communication, use of all classroom instruments and teaching tools.
Referral Discount
Classes are always more fun with friends! You will receive a $5 $10 tuition discount for each friend you refer that signs up for this summer session of Sand and Sea or Great Outdoors. (Sign up quickly to be sure you can get into the same class!)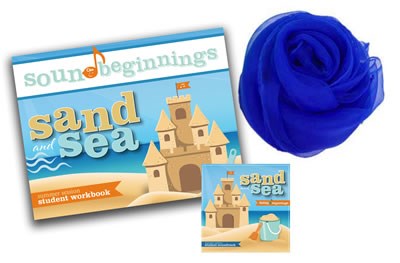 Sand and Sea Student Materials
All families will need to buy one Complete Family Student Set to enroll in the session.
Individual items (extra student books and scarves) will be available for additional siblings.
Complete Family Student Set
$25 + shipping
Student Book*
Student Soundtrack (Digital Audio Files)
Student Scarf
Our Sand and Sea Session Student Book includes student reference pages, such as ABC chart and Tone Bell page to be used in class, as well as home-fun ideas and activities.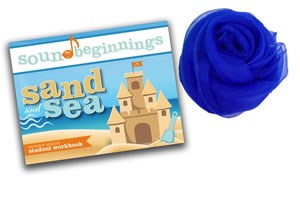 Individual Items*
Extra Student Book - $10 + shipping
Extra Scarf - $5 + shipping
*Ideally each student should have their own materials during class. It is highly recommended that you purchase a workbook and scarf for each additional sibling attending class that is over the age of 18 months.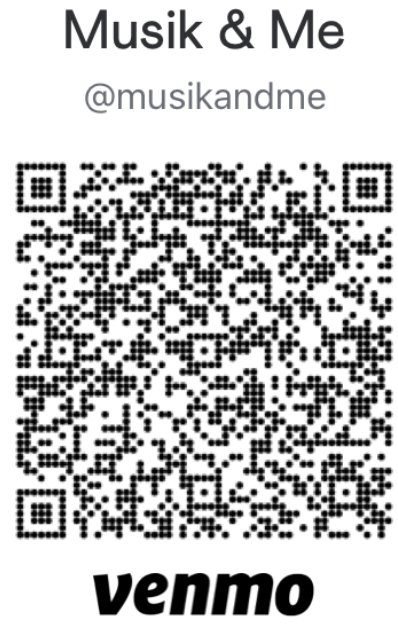 Step #1 - Registration Fee
The registration fee is just $5 per family. You will pay this fee directly to the teacher, Bethany Harris. Venmo is preferred. You can scan or tap the QR code at the right to pay.
Step #2 - Enroll and Reserve Materials
Click this link to be directed to my teacher page on the Let's Play Music website.
Find and select the Sand & Sea class you want.
Enter my enrollment code: 137058
Log in OR create a new account and add student(s). Use an email address that you check often. You won't get spammed from it, but get important class related information. Your password is cAsE sEnSiTiVe, so come up with one you'll remember. You will need the same email/password to download your class music. ♫
Select the student you are enrolling.
The system will recommend the appropriate materials (sibling set or complete set) for you, but you may also add individual items, as needed.*
Click the button on the bottom-right to "enroll more children" or "go to checkout" and complete the checkout process.
Download the LPM app on your phone or tablet to begin listening to your class music! (Search for "Lets Play Music" without the apostrophe.)
Please download and listen to your music as soon and often as you can...the more familiar you and your child are with the music, the more fun you both will have in class!
*All materials will be shipped to me and I will distribute them at our first class.
Please text, call, or email with any questions! I'm happy to help!
Although this will be a shorter session than a standard semester, we will still focus on the Sound Beginnings 7 Foundational Elements
Sound beginnings provides research-based elements that stimulate growth in areas particularly crucial to the development of the young child. These elements make up the foundation of the Sound Beginnings curriculum:
| | |
| --- | --- |
| | This class is for children and their 'grown up' to enjoy together. We will focus on building and strengthening these relationships while in class. We provide partner activities with intentional eye contact, trust elements, and physical touch to nurture this highly significant relationship. |
| | We are surrounded by correct singing with the semester music and in class. Students are encouraged to participate in appealing vocal play, make high and low sounds and use the minor third to learn to match and sing in tune. |
| | We use our bodies and instruments to feel and perform a steady beat. Steady beat is crucial to developing rhythm skills and supports math skills. |
| | Fingerplay to nursery rhymes help students focus on and enjoy fine motor movements. We also practice making the ABCs in sign language. Younger students enjoy the observation and will attempt the skills which is great practice too! |
| | We expose students to the finest music literature. Our 'smart moves' dances involve the whole body in an enjoyable classical music experience. Each semester, we study the specific timber of different instruments and group them by family. |
| | Full body movement builds muscle strength, hand/eye coordination, and develops balance. Gross motor also connects the two hemispheres of the brain, promoting improved cognition. |
| | In class we read stories, practice our ABC's and letter sounds. |